Pizza Crust without the Guilt!
I LOVE PIZZA! I could eat pizza for breakfast, lunch and dinner. However, nothing make me feel more guilty…or sick than polishing off a whole pizza. So..i've played around with some cauliflower and present you with cauliflower pizza crust that you can pick up and eat like REAL pizza! Some cauliflower pizza crusts have to be eaten with a knife and fork because they are just so soft and delicate. Not this one!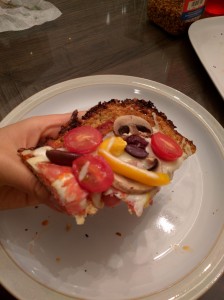 Prep time: 30 minutes
Cook time: 50 minutes
Makes: approximately 2 Pizzas
Ingredients:
2 large cauliflower heads
1/2 c Parmesan
1 egg
1/3 c egg whites
2 tbsp ground oatmeal
sprinkle of mozzarella
oregano
basil
pepper
salt
1. Put 2 large cauliflower heads in food processor till pieces are super small.. smaller than rice
2. Put in microwave for 5-6 minutes
3. Put small batches in a clean dish cloth and squeeze out excess water. Squeeze hard no water should really be left. Make sure you wait for the cauliflower to cool otherwise you may burn your hands!
4. Put all squeezed cauliflower in a bowl. Mix in pinch of oregano, pinch of basil, 1/2 c Parmesan, 1 egg, 1/3 c egg whites, sprinkle of mozzarella, pepper, 2 tbsp ground oatmeal and mix it all together with your hands.
5. On well grease parchment paper shape your pizza crust by pressing it down hard.. You want it compact. It should be approximately 1 cm thick
6. Bake at 450 F for 30 to 35 minutes. Edges should be brown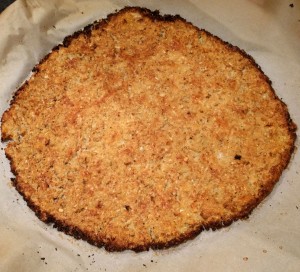 7. Add toppings and sauce at bake at 400 for 8 to 10 minutes till cheese melts 🙂 TRY not to eat it all in one sitting!