Meal prepping can be daunting but it doesn't have to be! Here is a breakdown of what I do each week
STEP ONE: DECIDE WHAT TO COOK
Thursday I decide what I'm going to cook. Now that I'm tracking macros, this step takes me a bit longer because I'm new to it. However, I am LOVING basing my meals on macros + calories not just calories.
Last week I decided on:
Breakfast: 1/2 cup (uncooked) oatmeal + 1 tbsp white chia seeds + 2 tbsp half and half  MACROS 62c/10f/18p/407 calories
Lunch: 160 grams of pulled chicken (recipe here) + 1/2 c brown rice + 1 c broccoli
MACROS 35c/3.5f/41.8p/343 calories
Dinner (option 1): 240 g zucchini noodles + 10 grape tomatoes + 30 g basil pesto + 72 grams shrimp + 1 tbsp parmesan + 12 asparagus spears (inspired by @ljadeparker ♥)
MACROS 20c/19f/24p/335 calories
Dinner (option 2): 290 g spaghetti squash + 10 grape tomatoes + 1/2 c classico low fat alfredo sauce + 72 grams shrimp + 1 tbsp parmesan + 12 asparagus spears
MACROS 30c/14f/28p/310 calories
Snacks:
1 chocolate optimum nutrition protein shake
3 c  Boom Chicka pop popcorn
175 g plain greek yogurt
1/2 c sugar free jello
with 380 calories left over to play around with
MACRO GOALS: 186c/59f/145p/1855 Calories
STEP TWO: PLAN A TIME TO GROCERY SHOP
I try to shop on Saturday's because sometimes grocery shopping is exhausting. I like being able to start cooking right away on Sunday.
STEP THREE: SET ASIDE 2-4 HOURS OF TIME TO COOK
Depending what you're cooking..and if you're prepping breakfast you may need up to 4 hours.
STEP FOUR: PLAN A STRATEGY FOR COOKING
1. Started with things that take the longest (ex. slow cooker, rice cooker, oven)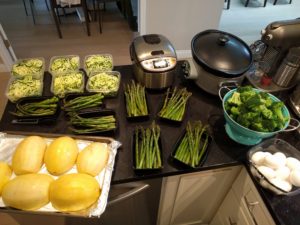 2. While things are cooking I generally deal with the vegetables (cutting, spiralizing, steaming, etc)
3. If I'm waiting a long time for things to cook I'll prepare snacks (bag popcorn, nuts, etc)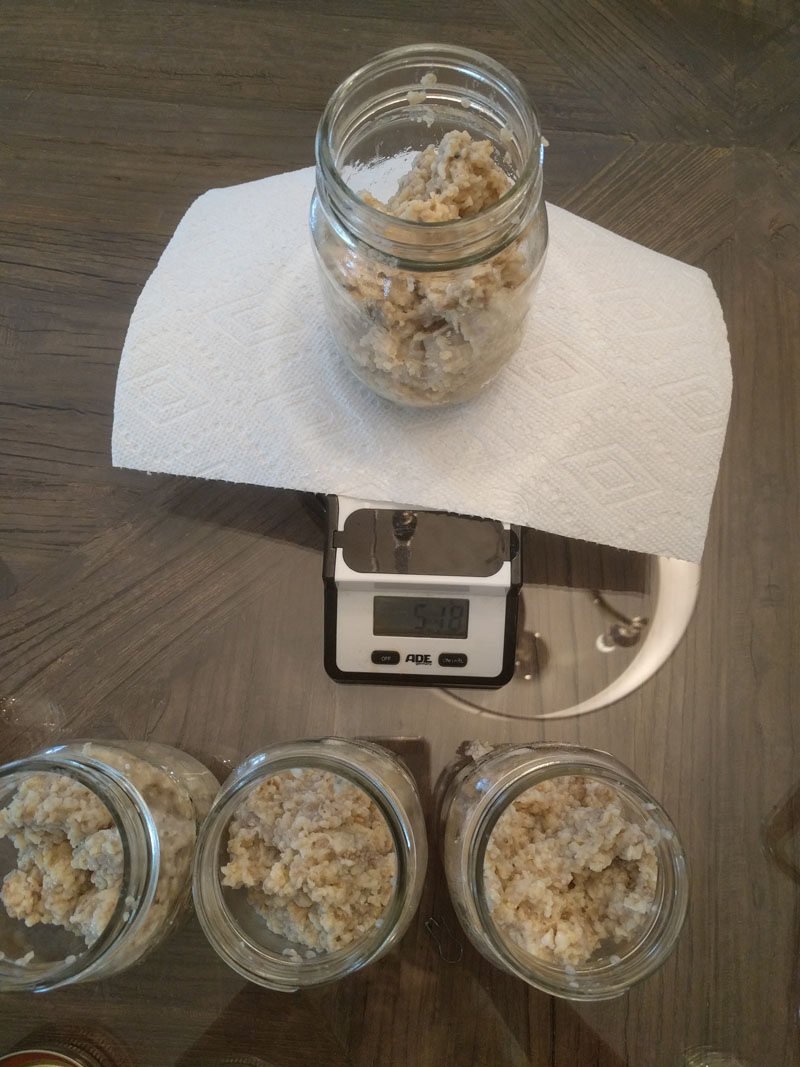 4. Start weighing meat, measuring carbs, vegetables, etc. Put all food in fridge ASAP.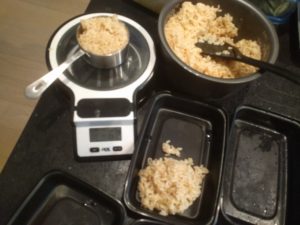 STEP FIVE: FREEZE ANYTHING YOU DON'T USE
This week I had cooked rice and spaghetti squash I didn't need. I pre-measured both, put them in ziplock bags, wrote the number of grams on them and wrote the date. Sometimes I cook more than I need on purpose because it saves me time on prepping the following week.