My cauliflower oats have a consistency similar to cream of wheat (because I love cream of wheat). I love oatmeal but if I'm cutting carbs it's nice to be able to eat a lot of volume without sacraficing all of my carbs. Adding cauliflower rice (ie. cauliflower tossed in the food processor until it looks like rice) ensures that you get to eat a lot…when mixed with cinnamon, PB2 peanut butter and truvia brown sugar you can't even taste the cauliflower!
Time: 25-30 minutes
Yields: 7 servings
Macros: 28.6C/2.8F/8P
Calories: 157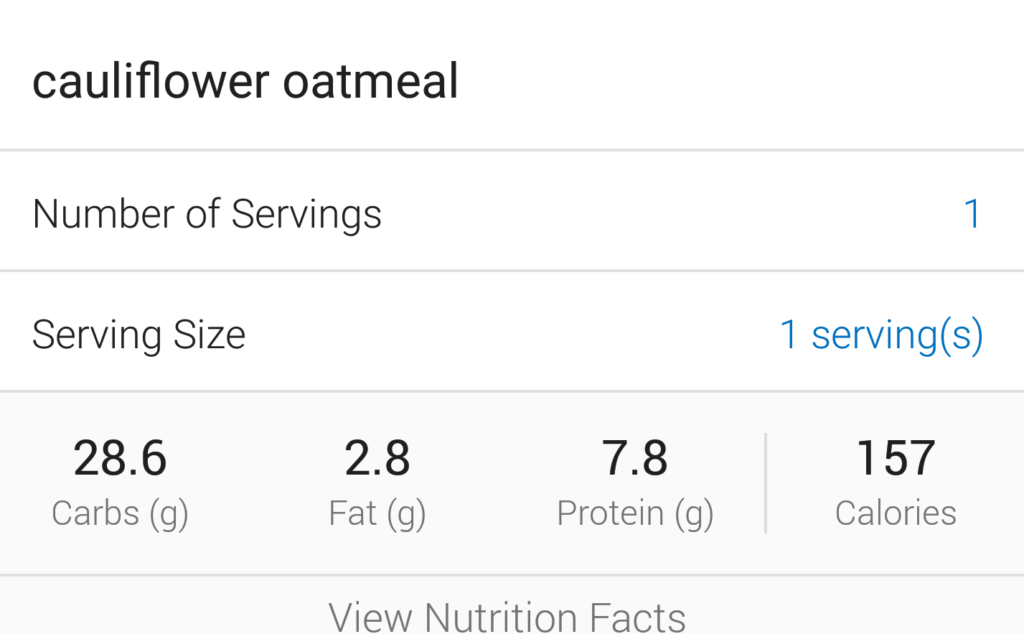 Ingredients:
1. 7 cups riced cauliflower I use a food processor
2. 2 cups quick oatmeal
3. 1 cup almond milk unsweetened
4. 1 cup pb2 peanut butter
5. 2 tsp cinnamon
6. 2 tbsp truvia brown sugar blend
7. water
Steps:
1. Fill a pot with 6-8 cups of water. Throw in oatmeal. I use a lot of water because it makes the oatmeal fluffy.
2. while the oatmeal is cooking, rice the cauliflower in the food processor.
3. Add 7 cups of cauliflower to oatmeal and let it simmer.
4. Add in almond milk, pb2, cinnamon and brown sugar
5. let cook on medium for about 5-10 more minutes. I let mine cook till it is thick and porridge like but still runny.