Cauliflower Rice is a great way to cut down on starchy carbs and also increase your intake of vegetables.
I like to think of cauliflower rice as a wonderful canvas on which to add your own flavors, spices and sauces!
Calories: Approximately 150 to 220 depending on the size of your cauliflower
Prep time: 15 minutes (or more depending on the size of your food processor)
Cook time: 5 minutes
Yields: approximately 7 -8 cups of cauliflower rice
Ingredients: 2 heads of cauliflower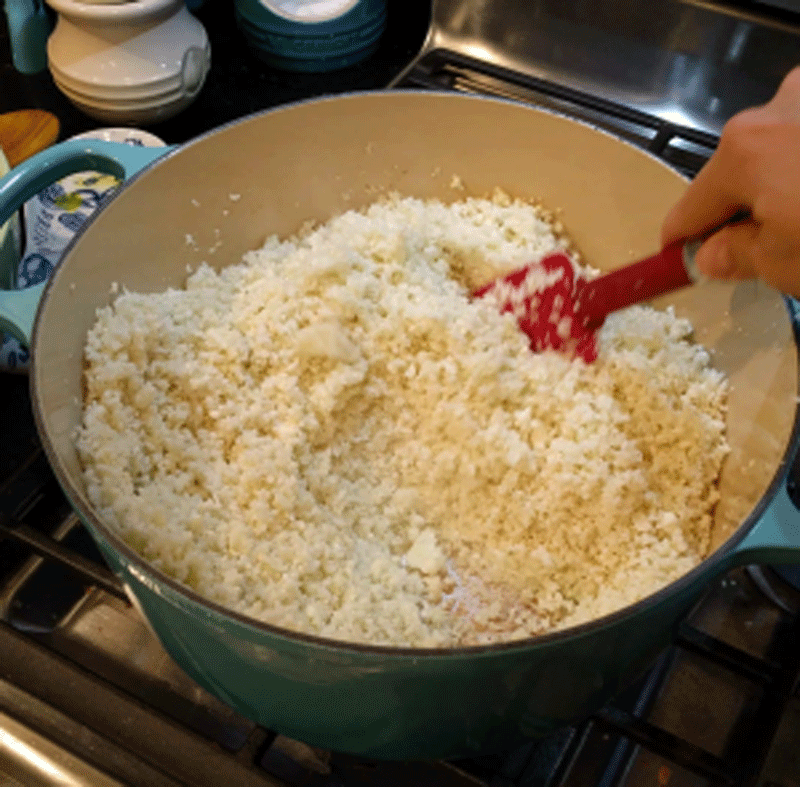 1. Begin by cutting off the leaves and do your best to hull the cauliflower (you want to get rid of the trunk so its easier to break the florets apart). You can definitely use cauliflower stems in this recipe. I don't go out of my way to cut them off but if there are big ones I usually just eat them instead of throwing them in.
2. Using your hands or a large knife, break florets into small pieces. Try to make them approximately the same size.
3. In small batches put the cauliflower into a food processor. (If you don't have a food processor you can grate the cauliflower but this can be very tedious.)
4. Process the cauliflower until chopped up into small rice size pieces. Repeat in small batches until you can done this to all the cauliflower.
5. Put the cauliflower bits into a microwave safe container and cook for 4 to 5 minutes stopping it once to mix.