Meal prepping is a life saver but it can be hard to start if you've never done it before. These are a couple things that I've found have helped to make it more sustainable.
1. Cook things you can eat over and over (ie. things you love)
Eating the same thing all week can definitely be tough. If you aren't excited about the food you're making the day you make it, chances are you won't be excited on day 4.
2. Pre-plan your menu.
I like to plan my menu for the following week every Thursday. This gives me time to look for both old and new recipes. I also make my grocery list on this day. I recommend you e-mail it to yourself in case you find yourself with some unexpected free time! Also, when you're planning think about how those ingredients can change over time. If you've made it before, does it reheat well? Does it get soggy after one day?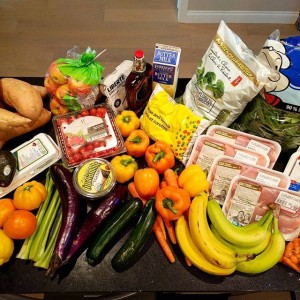 3. Grocery shop on a different day than you prep.
Grocery shopping can be exhausting and unpleasant at times. Combine that with having to cook for 2-4 hours doesn't always make for a fun day. So, attempt to do them on different days.
4. Meal prepping grocery shopping doesn't have to break the bank
Buy what's in season, buy frozen vegetables and fruit. Buying things in bulk and freezing them can also be more cost effective. If I'm really careful, I can eat 3 healthy meals and 2-3 snacks for about $10-$12 dollars CAD. Now, a lot of people think that's super expensive but going out to eat is on average $8-15 dollars so I personally think $10-12 dollars is a great deal. It also allows me to know what I'm eating and helps me stay on track with reaching my goals.
5. Be realistic with your time
Depending how long it take you to cut, peel, chop, etc. prepping can take varying lengths of time. Make sure you give yourself enough time to cook everything. Set aside 2-4 hours of your day to cook. It might seem like a lot but think about how long cooking one meal is followed by dishes and clean up. I also try to plan out what I cook first based on wait times. I literally make a prep to do list of what i'm going to do first. For example, some things need to be in the over for 40 minutes. If I'm making rice or using the slow cooker I'll start with those things because I know they take a while to finish. When the big things are started it's easier to prep quicker things like snacks or overnight oats.
6. Don't over prep
A lot of people over prep food and think they can eat the same things for 4 to 5 days without a problem. That's great! But…not everyone can. This means food gets thrown out because you just couldn't stomach another one of those meals. There's also the possibility of last minute plans. If you're not the kind of person to bail on plans because you have food in the fridge, I definitely recommend you under prep.
7. Keep it Simple
Sure, in theory baking cooking, making protein energy balls, protein waffles, spiralizing vegetables, overnight oats and baking chicken all sound like a great idea, it might be too much. I like to plan my preps and the recipes i'll use based on the time I have and the time I want to spend in the kitchen. If i'm in a rush i'll likely be making overnight oats because i can make 4-5 of those in under 10 minutes. I will likely be using a slow cooker to make lunch or dinner, and my last meal might be a one pan dish that I throw in the over. The first mistake so many people make is getting carried away and then complaining they spent 7 hours in the kitchen.
8. Invest in good meal prep containers
If you don't want your food spoiling or going bad make sure to set your fridge at an appropriate temperature and ensure that your containers are air tight.
9. Grow your recipe collection slowly
Making 3 new recipes every week can be a bit tiring. Instead I create or find one new recipe each week and use 2 old recipes i'm comfortable with. Constantly referring to recipes and second guessing the next step is time consuming and draining.
10. Prepare the same foods slightly different ways
Sometimes all it takes to spice things up is a different texture or a different taste. If you're making chicken breast, separate them into two different piles and season each pile differently. For example, make one zesty and one spicy! Peel, slice and boil your sweet potatoes…then you can put half of them in the oven, or mash them with a bitter of unsweetened almond milk and add some seasoning.
Want to know how to save money meal prepping? Check out the video below: