I've recently been living off these waffles. They are so darn good and they keep me feeling satisfied!
Time: 5 minutes
Yields: 1 serving of waffles
Macros: 4c/6f/30p
Calories: 190
Ingredients:
1 egg
1 scoop vanilla protein powder (Optimum nutrition whey)
1 tsp baking powder
1/8-1/4 cup water give or take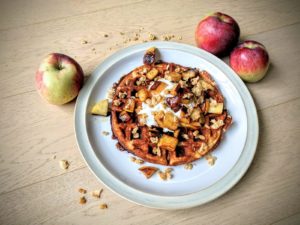 Steps:
1. In a blender (I use a nutribullet) mix egg, protein powder, baking powder and 1 tbsp water.
2. Blend ingredients
3. Check to see the ingredients are batter like (you can add more water if it's not runny enough)
4. Pour in greased waffle maker. Do not over fill.
5. Wait about 2 minutes till waffle has risen and add the remaining batter by filling in any holes. Close and wait another minute.
6. Add toppings and enjoy!
My favourite toppings:
1. Blend cottage cheese with lemon zest and about 1 tsp of fresh lemon juice – I spread it on and add fresh fruit. This is great if you like tart toppings topping!
OR
2. Cut up half an apple into bite size pieces and cook it in a bit of butter with cinnamon.
Optional Toppings:
-fresh fruit
-Greek yogurt
-maple syrup
-cottage cheese
-jam
-peanut butter
TIPS:
1. do not over fill your waffle maker, when the batter rises it will leave everywhere
2. Don't add too much water, you don't want it too runny
3. Top your waffles with Greek yogurt or no sugar added syrup to make the waffles moist, they can be a dry
4. Reheat your waffle in the toaster for a crunchier waffle
Need a waffle maker?
My Oster waffle maker is super simple, no frills. It claims to have temperature settings but that's debatable. Mine is permanently set to medium. For less than $20 usd (which is less than the cost of going out for waffles..for 2 people) you can make waffles everyday!!! Or, you can be like me and make waffles on the weekend, for the entire week!! Ps. Waffles freeze really well.  Just take them out of the freezer the night before you want to eat them.