Meal Prepping doesn't have to take hours! When it comes to staying on track with your nutrition, prepping even one set of meals is a great start. This week's meal prep took LESS THAN 3 HOURS! Grilling is a great way to keep your food interesting AND keep your prep time short!
Meals this week include:
meal 1

: 50 grams dry oatmeal w. cinnamon + 90 grams blueberries, a chocolate optimum nutrition protein shake + 0.8 cups of egg whites cooked each morning

meal 2

: 4 cups iceberg lettuce with shredded carrots and red cabbage with 200 grams grilled organic chicken breast, grilled zucchini, grilled red pepper and 5 cherry tomatoes

meal 3

: 1 flat out wrap filled with a (store bought) organic ground sirloin patty, 1 cup spinach, 2 slices tomatoes, 1 slice light cheddar, 75 grams avocado OR homemade salmon burgers (I can't share the recipe because I winged it..I'll write it down next time because I have no idea how much salmon I used. Ooops!)

meal 4

: 50 grams greek yogurt mixed with cinnamon, 1 scoop optimum nutrition chocolate protein powder, 20 grams whole white chia seeds and 1 tbsp of water (to make a sort of pudding)…this wasn't my intention but it turned out dope!
Calories for above meals and snacks is approximately 1865
To see my macros: follow me on My Fitness Pal: nikkijustgetfit
*if you want to know my macros/calories check out the "Macros" section on my blog
FAQs:
1. Do I freeze anything?
Because I only prep food for Monday to Friday I don't freeze anything UNLESS i'm making waffles or pancakes. If I make waffles or pancakes I freeze Thursday and Friday's portions. I do set my fridge to be colder than normal….sometimes my boiled eggs and parts of my meals are actually frozen.
2. How long does food last?
Anything not eaten by Friday at lunch time gets thrown out. I prep less meals than we need. I know that once a week we have a family dinner, and that Friday we will probably get sushi after the gym so..we really only need 3 dinners. There's also always random things you don't plan for and I'd rather have eggs and oatmeal for dinner than throw food out so…often times I cook 2 meals less than we theoretically need. If you aren't comfortable cooking this much food, prep twice a week.
3. Do things get soggy?
Meal prepping means that sometimes you have to figure out what works. When including fruit, I make sure I dry it well so it doesn't get soggy. I personally am not picky about soggy things…for instance, soft mushy french fries are my jam. But things like chili and lasagna don't get soggy in my opinion. Sometimes it is simply trial and error to find out what works.
4. How many people is the food for?
I cook for my husband and I. The only difference between what we eat is portion size. However, that's not always the case..I eat a lot. ?
5. How long does it take to meal prep?
I find I can prepare lunch and dinner for 2 people in about 2-3 hours. This varies depending on what I make and if I have any help. If i'm cooking breakfast also, give me 3-4 hours.
6. Do I get bored of eating the same thing?
Sometimes, but not really. I only cook things I love. I try new recipes sometimes and am like I am NEVER making that again because it was awful eating it all week.
7. What's the nutritional value of the food?
Follow me on MY FITNESS PAL to see: Nikkijustgetfit
Now that i'm counting macros I weighed everything! I'm not going to lie, I like doing it!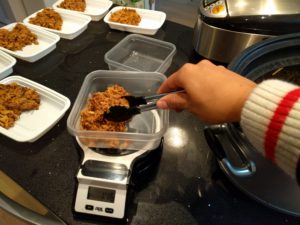 8. How do I reheat my food?
As a teacher I often eat on the go. Between working with students, supervision and clubs I don't get a lot of time to sit down. I'm also totally fine with eating food cold so…a lot of time that's what happens. But, if I do have time I just throw my food in the microwave.
9. What can't I live without when meal prepping?
Check out this post to see to get linked to my favourite my waffle maker, crockpot, rice cooker, scale, meal prep containers, spiralizer….
10. What protein powder do we use?
Optimum nutrition. The chocolate taste amazing!! I do my baking and waffles and pancakes with the Optimum Nutrition vanilla.
11. What pre-workout do we use?
Amino Energy. Currently loving lemon lime and watermelon flavors. My husband loves grape but I think it tastes like cough medicine.
12. What lunch bag do I use?
I use the Shield Bag from FITMARK BAGS use code friends15 for 15% off your bag.