This meal is the bomb! I threw it together while perusing the grocery store because I loveeee spending time at the grocery store. Anyway, found these epic fettucini and spaghetti noodles with amazing macros. And then I was basically being a lazy human and found a sauce I liked and have bought before and frozen cooked shrimp because protein without cooking is a win! This recipe basically requires you to boil water. I'm sure ya'll can do that! This recipe is perfect for when you're short on time but need some meals ready to go! I've included more tips on the bottom.
You can make this recipe Vegan too by just skipping the shrimp and cheese. You'll still end up with lots of protein!
I will note this isn't a huge serving but I can honestly say I really enjoyed it and it was the perfect way to end the day. I was about 80% full which is what I aim for anyway so the portion size worked well for me. You can increase the volume of this meal by making it 3 servings instead of 4 or adding a big side salad!
Servings: 4
Prep time: None
Cooking time: However long it takes you to boil water
Calorie per serving: 397
Macros for serving: 13 carbs /13 fat /49 protein
Ingredients:
400 grams arrabiata pasta sauce (store bought) any sauce will work
200 grams or 1 box of  Organic Edamame & Mug Bean Fettucini
40 medium shrimp (I bought frozen pre cooked ones)
60 grams Grana Padano Cheese (Parmesan)
*3 Peppers I also roasted red peppers but you don't need to do this, it's easy but it takes a long time. (macros not calculated for this)
Instructions:
Boil water, add fettuccine and cook for 6 minutes or (instructions on box)
Split fettuccine into 4 separate lunch containers. I recommend 3 compartment ones because it keeps everything separate. It works out to be 50 grams (uncooked) per box. I didn't weight the cooked weight.
I divided the frozen shrimp equally among the 4 boxes. (The shrimp defrosted in their individual compartment without getting liquids on anything else. I would defrost them separately if you don't have these kind of containers.
Add sauce to the last compartment of your container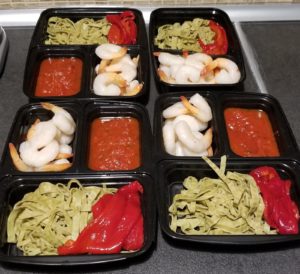 You're done! Reheating tips below
If you want to make roasted red peppers I followed these steps but it took me about an hour to get mine looking like hers. I thought they were delicious and worth it!
If you don't want to defrost 3 or 4 days worth of shrimp you can simply defrost what you need the night before. I personally added 10-12 frozen shrimp in each meal prep box and just let them defrost in their individual boxes over night. You can just drain the liquid before warming it all up.
Reheating: I eat this for dinner so I can peel all the shrimp tails off, throw them in a pan. Flip them after a minute or two and throw in your already cooked noodles and prepared pasta sauce. It warms up nicely on a pan in about 5-7 minutes. I also throw about a Tbsp. of dried chili flakes because i like my food spicy! I top it all with some grated Parmesan cheese because cheese is life!