Cost: $70 USD and provide meals and snacks for hubby and I for 4 days..and snacks for probably a little longer.
Prep time including clean up: 60-90 minutes.
It might sound strange to you but I always meal prep based on my cravings and what I feel like eating. If I've been thinking about burgers and pasta I'll find a way to prep those. This might mean smaller portions or mixing lower calorie options like zoodles and pasta or skipping the bun on the burgers, using lettuce and making home made sweet potato fries instead!
On occasion I'll prep based on what I already have that needs to be used up. But, for the most part, meal prepping meals I only buy ingredients I need an plan to use right away. As a result I end up wasting a lot less food. I use to shop based on what looked good and would end up with a random assortment of produce and meat. In reality it didn't always go well together and I'd end up wasting things because I didn't have a plan for them.
When deciding on what recipes to use or experiment with I also consider:
A. how busy I am on my meal prep day (Sunday)
and
B. how busy I am the following week – social commitments, etc. to avoid making too much food/wasting food
Both of those things help me determine how much time I can commit to spending in the kitchen and just how much food I will need to prepare.
*You'll find my full grocery list for all these meals/snacks at the bottom of the page
Planning this week's Prep
Seeing as the weather is nice, I don't want to spend a lot of time meal prepping so I'm planning this prep based on spending 60-90 minutes prepping.
As the weather gets warmer my appetite usually decreases. I won't lie, it makes it a lot easier to lean out for the summer. For this reason I generally find myself prepping less food in the summer and having more ingredients available to make things when I am hungry.
Breakfast
Since i'm super busy this week and back on working out in the morning before work I decided to stick my post workout smoothie. Meal prepping for this requires 5 minutes of prepping and then baking sweet potatoes for 45-55 minutes. Want the recipe for my post workout smoothie it's you can find the recipe here.
Prep Time: 5-10 minute prep required. You can measure out the ingredients into bags/boxes which minimize time in the mornings.
Cooking Time: 45-55 minutes (in the oven)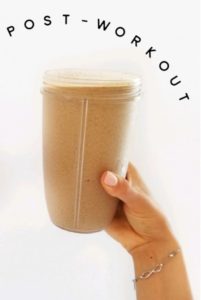 Lunch
This week I've been craving Asian food so I've decided that I'm going to make a spicy peanut butter stir fry. A stir fry is also super easy, quick and versatile when it comes to veggies.  If the grocery store doesn't have something on my list I can easily substitute it or search the frozen produce section. When making a stir fry I don't have to follow a recipe which also helps me save time. I know I can use garlic, onions, a ton of veggies, a form of protein and mix some sauces and spices together to make it delish! Try my Stir fry recipe here. It's under 300 calories, low carb and high in protein. More importantly it tastes delicious!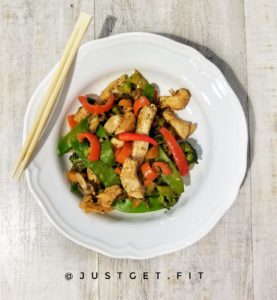 Dinner
Since I don't want to spend a lot of time in the kitchen this weekend I'm going to be having breakfast for dinner. It'll be variations of this:
2 eggs, 3 egg whites, protein bread, smoked salmon, half an avocado, 1 small zucchini, a handful of cherry tomatoes, arugula, sauteed mushrooms, homemade roasted red peppers, hummus and a red chili. I season it all with pepper and garlic powder.
Prep Time: 5 minutes or less
Cooking Time: 5 minutes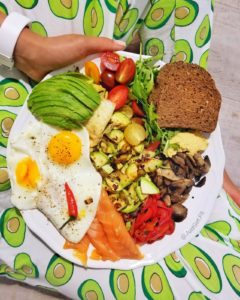 Snacks (no cooking required)
I've got a couple go to options I've been loving lately and they include:
1. rice cakes with peanut butter and fresh fruit, peanut butter and honey, cream cheese and cucumbers, hummus and veggies (5 minutes prep time)
2. tuna salad made with 1 can of tuna mixed with Greek yogurt, mustard, pickled green chili, salt, pepper and cherry tomatoes (5 minutes prep time)
3. hummus with veggies (5 minutes prep time)
4. yogurt with fresh berries (2 minutes prep time)
None of these require any meal prepping. I can throw the ingredients into my bag in the morning and prep 1-3 of them at work depending on my hunger levels.
Drinks
I basically only drink water. However, if I've got a sweet tooth I make a big batch of iced tea lemonade. 2 liters usually lasts me two days.
Iced tea: 3 springs of mint chopped up, lemon juice (from one whole lemon), 5+ blackberries halved, 1 cup of strawberries (chopped), 2 lemon tea teabags
Prep Time: 5 minutes
Grocery List
As you can see most of my list of made of whole foods. My body functions and feels best when I eat like this. It also helps me stay full and satiated when cutting calories a bit to lean out for the summer.
With regards to the protein bread there are lots of different brands out there. Just check your local grocery store to see what's available near you.
Produce:
5 sweet potatoes*
1 head broccoli
2 carrots
2 bunches of radishes
4 bell peppers
3-4 onions
Snow peas
1 head cauliflower
1 bag spinach
1 box cherry tomatoes
1 package mushrooms
2 cucumbers
4 zucchinis
1 box mint
2 lemons
1 box blackberries
1 pint strawberries
4 avocados
1 package arugula
Red chilis
Protein, dairy and eggs:
1 kg chicken breast
1 dozen eggs
Egg whites
Greek yogurt
smoked salmon
cream cheese
tuna*
Grains:
Protein Bread
rice cakes*
Condiments/other:
hummus
peanut butter*
cacao*
cinnamon*
chocolate protein powder*
lemon tea*
PB2*
liquid aminos/soya sauce*
Truvia*
sesame oil*
honey*
garlic powder*
cooking spray*
Total cost: ~$90 Canadian, $69.92 USD
The cost does not include anything with a * as I already had it and did not need to purchase it.
Questions? You can e-mail me