A lot of people ask me how I decide what to cook to hit my macros. I wish there was an easy peasy answer. The truth is, when I first began counting macros it took a lot of trial and error. Below is what I found worked best. If you don't know what your macros are yet check out this post.
Step 1: Figure out what I WANT to eat for breakfast, lunch and dinner. (Check out the recipes section of my blog) For this example i'm going to use "Chikudo".
Step 2: I go into My Fitness Pal (MFP) and either create a recipe by entering my own or add one from a website I like. The servings is based on the number of meals a recipe creates.  If I'm meal prepping, this is 8 or 10 servings. After MFP creates my recipe with the ingredients I entered I TRIPLE check that it found the correct ingredients. I include any oil or spray I'm going to use when I prep the food and make sure no ingredients have calories but 0 for any of the macros.
Step 3: I then go to the Monday of the following week and add all three main meals using the recipes from my My Fitness Pal or what I feel like eating, eggs, avocado, oatmeal for a meal instead of a recipe.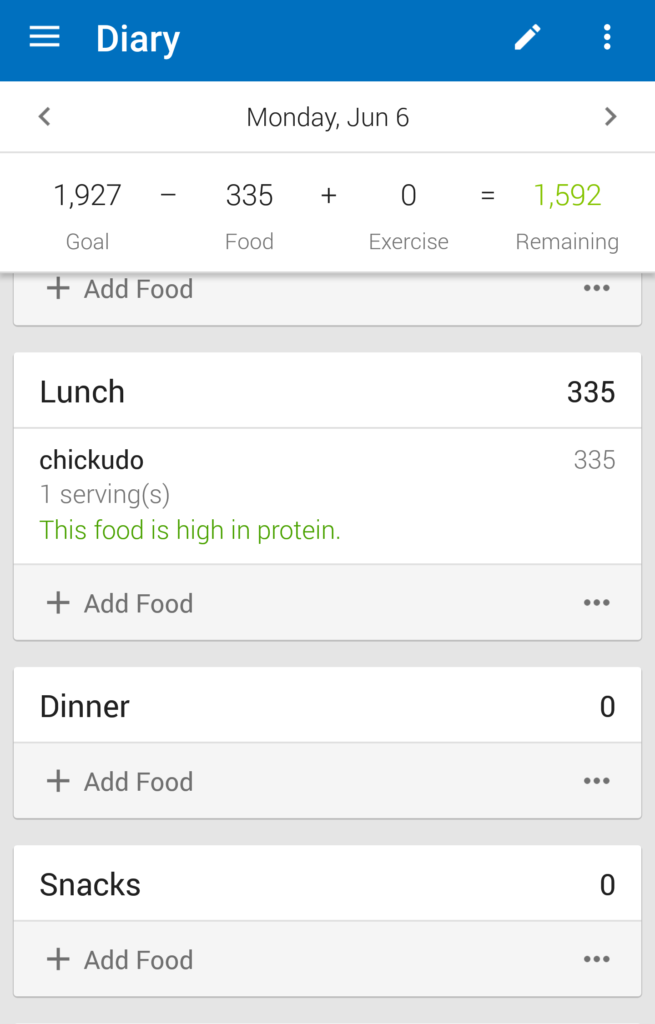 Step 4: Then I scroll down to the bottom of Monday and click "Nutrition"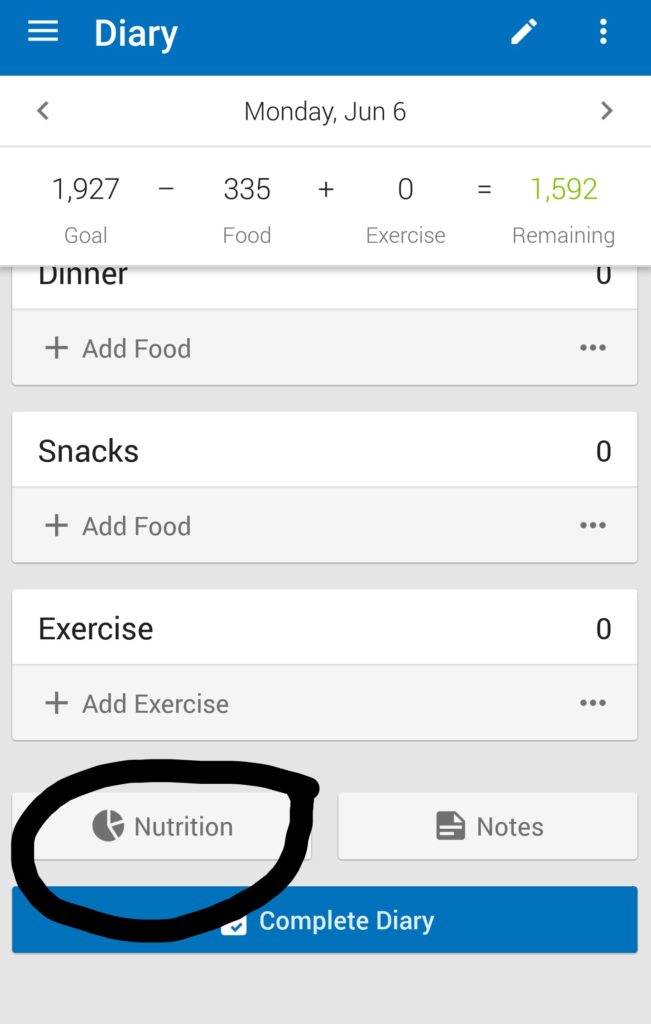 Step 5: I Look at the "Macros" section of the page. This helps me to figure out what macros my next meal/snack really needs to target. Based on what you see below and knowing what my own macros are I know that I have a long way to go to hit my fat and protein macros.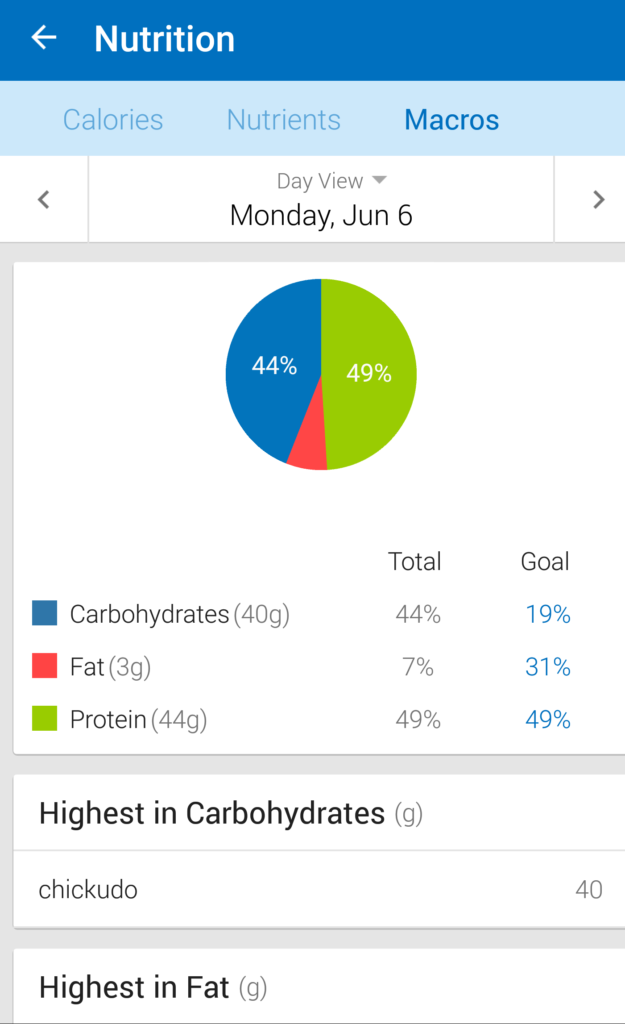 Step 6: Find a recipe or think about what you can eat that will help you get one step closer to reaching your target macros. This is when I would likely add in my regular go to foods like my Protein Waffles which I know will get me 30 grams of protein closer to my goal. If I plan on eating fruit I add that in now also because fruit is high in sugar and carbs.
Step 7: Next, figure out what I can do to increase my fat consumption. This might mean entering an avocado or cheese into MFP and seeing how that affects my overall macros..see image below. Now i'm not sure if this is because I paid for the premium version of MFP but under macros it has sections on "Highest in Carbs", "Highest in fat" and "highest in protein".  I look how these numbers change AFTER I add a bunch of recipes and food into MFP. That way, I figure out what foods I need to cut out or adjust the portion size (bigger or smaller)  or adjust the recipe..add more meat or less potatoes.
If you aren't sure what foods fit into which macro check out this post: whole foods
I continue to tweak my foods until I get as close to my macros as possible. It is up to you if you want to plan out ALL your macros or leave some for you to play around with (if you're going out to eat, like daily variety, etc).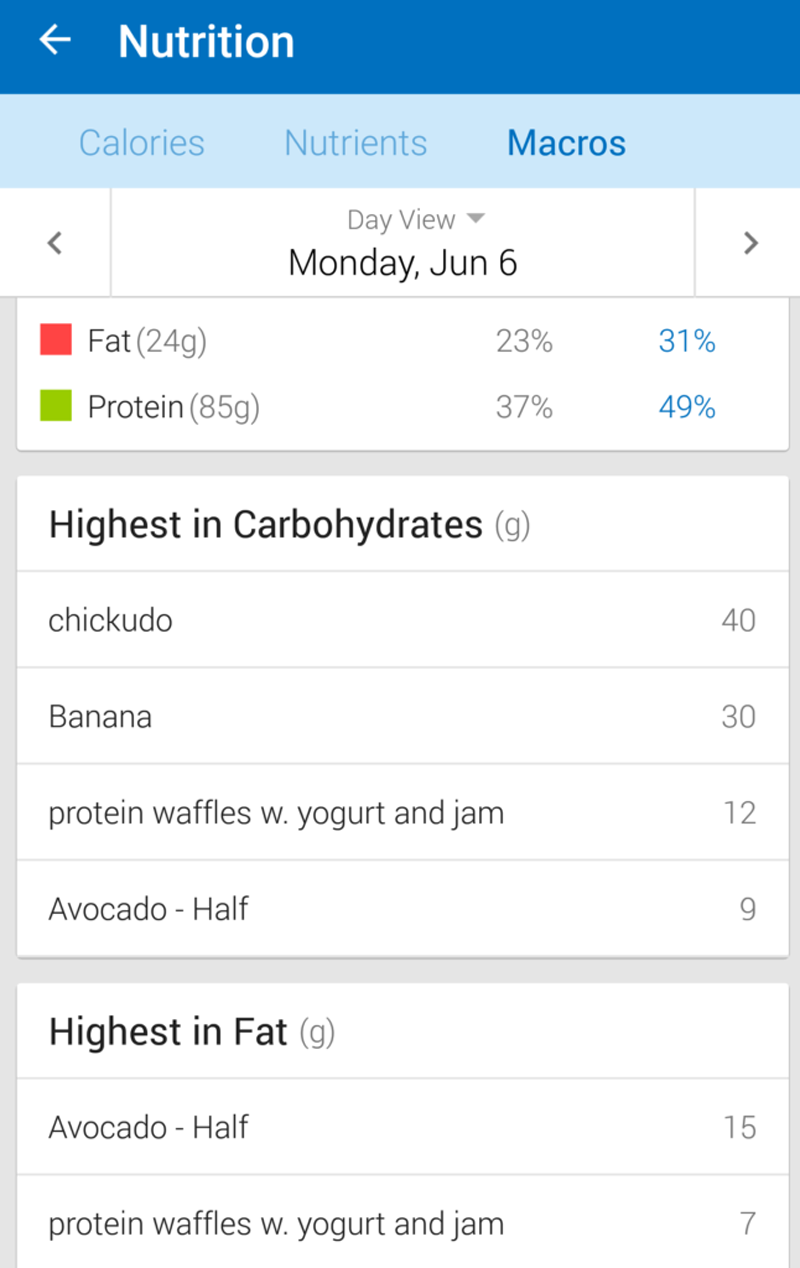 Step 8: If you're meal prepping, I then make a grocery list of what I need to buy at the store.
Step 9: Now comes the really important part. After you're done cooking WEIGH EVERYTHING!!!! Why is this important? If I make 10 servings of "Chikudo" I need to make sure that I end up with 10 servings of EXACTLY the same weigh..give or take up to 5 grams. This ensures that the macros you entered are accurate for what you're eating. WEIGH your RICE/MEAT/FRUIT!!!! You would not believe how inconsistently you can fill 1/3 cup of rice. I've definitely experiences a 50 gram difference depending on how densely I fill my measuring cups. All these little inconsistencies add uncounted calories/macros to your daily intake.
TIPS:
After I prep, I go through the whole upcoming week and I add in every meal/recipe that I am going to eat. This helps me stay on track and know what I have left over (if I didn't plan out every meal/snack).
If I'm going out, I pre-look at the menu, calculate or approximate the recipe and add it into MFP FIRST!!!!! Then I add in the foods that I'd like to eat and see if I've gone over my macros. Sometimes this means I won't be able to eat much the rest of the day because of what I want at the restaurant (this makes me sad …and often change my order to something that won't totally destroy my macros).
When it comes to adding exercise into MFP I don't consume those extra calories that MFP suggests because I worked out. If my target macros is 170c/145p/52f I stick to that despite my exercise level.
Eating the same things helps keep things simple
you will eventually figure out what things you like are really helpful in hitting certain macros. (ex. egg whites, oatmeal, low carb veggies..for a list of things I like click here)
If you go over, don't stress, you're human! It's important to incorporate foods you like and treats like froyo and cookies. Tracking your macros may open up a whole world of possibility into what you can eat! Enjoy it!