These low carb chicken burgers have been amazing while on my cut. I look forward to eating them every single day! Even hubby was impressed at how delicious these were!
Prep Time: 15 minutes
Yields: 8 mini burgers (2 mini burgers per meal)
Cook Time: 25 minutes
Macros per serving: 15c/9f/51p
Calories: 350
Ingredients:
800 grams ground chicken breast
1/8 tsp salt
1 tsp pepper
2 tsp oregano
3 Tbsp. fresh parsley, diced
4 cloves garlic, minced + sautéed
cooking spray (I used avocado oil)
2 tomatoes (half a tomato per serving)
1 head of lettuce
1/2 a sweet onion (thinly sliced)
4 slices cheese (50-60 cal per slice)
2 cucumbers (1/2 a cucumber per serving as a side)
Toppings per 2 mini burgers:
1 Tbsp Ketchup
2 Tsp. Mustard
Siracha
Steps:
Preheat the oven to 375 F
Mince and sauté the garlic (you can add it to the meat raw but it does have more bite).
Cover a baking tray with tinfoil and spray with olive oil
In a mixing bowl, combine the ground chicken, garlic, salt, pepper, oregano and fresh parsley.
Spray your hands with olive oil prior to forming the burgers. The oil prevent the burger mixture from sticking to your hands.
Form 1 inch thick chicken burgers using 100 grams of ground chicken mix. I covered my food scale with tinfoil and weighed small amounts of ground meat before forming the burgers. 
Bake at 375 for 15 minutes
After 15 minutes flip your burgers, add cheese (half a slice per mini burger) and cook for an additional 3-5 minutes
When it's time to eat your mini burgers, lay them on a large lettuce leaf and top them with ketchup, mustard, fresh or caramelized onions, tomatoes, siracha, pickles or even grilled vegetables. I normally wrap my entire burger in lettuce using a second leaf of lettuce on top.
Below is how I store my mini burgers for a meal prep. I don't wash the lettuce I use until just before eating to prevent it from getting soggy.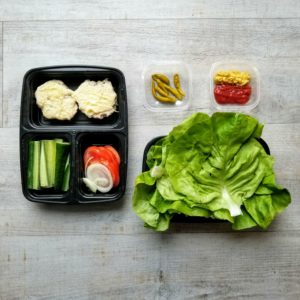 Subscribe HERE to get recipes, weight loss, fitness and meal prep tips!